Heads up y'all! Just got this in a newsletter from Harpers...holy smokes, I couldn't be more excited! Can't wait to read this one and tell y'all about it!! Sounds just fab-u-lous!










New Nonfiction: Liar, Temptress, Soldier, Spy – Karen Abbot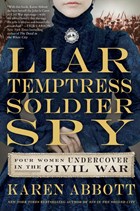 When
Sin in the Second City
was published in 2007,
USA Today
called Abbott a pioneer of "sizzle history". That was enough to make me pick up the manuscript of her latest book, which brings to life the lives of four women who defied convention to play significant roles in the Civil War. The history is well drawn and well researched, the writing is energetic, suspenseful and cinematic. Yep… there's sizzle here.
By looking at the roles women and civilians in the war, we get an interesting glimpse of the social history of the period as well. PW did an interview with Abbott and her response to the question "What surprised you the most in your research?" points to that:
I had no idea that women disguised themselves as men and enlisted in the army. What I found really fascinating was how they got away with it. It was not only that all the soldiers went to bed fully dressed, so it wasn't odd that the woman wasn't stripping down to her linens, but it was that fact that no one knew what a woman would look like wearing pants. They were just so used to seeing women in crinolines and bonnets and these big flowing dresses that the idea that a woman would actually put pants on was so unfathomable that they just had no idea—and that's how they got away with it."
The book arrives with a starred advance review and strong endorsements from some major popular historians.
In this gripping book, Abbott tells the moving and fascinating story of four women who played unconventional roles during the Civil War….Meticulously researched and fluidly written, this book draws the reader in and doesn't let go until the four heroines draw their final breaths. Abbott provides an alternate view of this tumultuous time in history by featuring previously untold stories of the impact women and civilians had on the war effort, and she brings these individuals fully to life, with their passion for their causes, personal flaws… and heartbreak…. In the end, Abbott tells a remarkable story of passion, strength, and resilience."
— Publishers Weekly (starred review)
"With this book, Karen Abbott declares herself the John le Carré of Civil War espionage–with the added benefit that the saga she tells is all true and beautifully researched."
— Erik Larson
"Karen Abbott's powerful narrative is first rate American history about a fascinating, little-known chapter of the Civil War, as well as a compulsive, thrilling saga of espionage. Brilliant storytelling, highly accessible, and impossible to put down."
— Gilbert King, Pulitzer Prize-winning author of Devil in the Grove
"Abbott…[reveals] in such vivid detail the extraordinary lives of women who involved themselves so dangerously in the Civil War. This is that rare work of history that reads like a novel — and a really good one at that — and in which the truth is more thrilling than fiction. "
— Michael Korda